Let's protect together cell phones of your customers and employees 
BUSINESS Pee\Hero©
Did you know that up to 75 % of people are taking their cell phones to bathrooms? Where do your clients and customers place their cells, when using bathroom in your office, coffee shop, restaurant or shopping centre?
To download business presentation click here: Pee\Hero for your business
Pee\Hero© provides a new comfort in terms of security, hygiene and cleanness for customers, employees, visitors or guests in common sanitary facilities. Creates space for placing a cell phone or a tablet safely out of wet and unstable environment of bathrooms and basins. It is protected with several European and Slovak patents.
Extend your business with Pee\Hero© edition
We will prepare a tailored made BUSINESS Pee\Hero© collection suitable for:
► office spaces & commercial buildings
► administration buildings
► shopping and entertainment centres
► restaurants, coffee shops and hotels
► public or portable toilets
► airports etc.
What will your business gain with Pee\Hero©?
★You will show your clients and employees that you care about their comfort
☈ Be a trailblazer and give a useful present with your company's branding
♥ You will present your company in an innovative and non-conventional way
☂You will protect your device against cracking, breaking, or toilet bacteria
♲ Helping nature
Yes, by using Pee\Hero© holder you are protecting nature. Wondering how? By not drowning your device in a toilet, you will avoid excessive cell phone consumption 🙂 Pee\Hero© holder sets a new standard in a bathroom usage.
BUSINESS Pee\Hero© also introduces unconventional advertising space, using the environment of bathrooms for communication with clients and guests. This enviromnet is considered to be one of the most impactful areas, at it is visited by everybody. Besides the communication feature, the holder is providing a comfort that wasn't introduce anywhere else. 
✓ The design will be tailor made to your brand's identity 
Pick from your stylish portfolio and we will prepare branding according your needs – either for you, your clients or business partners.
We are proud that we can secure production and delivery to almost all countries in the world. Our products are made in Europe and our quality of the production is our priority.
Few examples of branded designs for our clients: 
Coffee shop Monsterscafe                                   RF Elements                                              BUSINESS Pee\Hero©
How will be BUSINESS Pee\Hero© installed?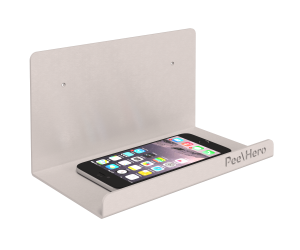 We know that environment can be sometimes rough, that's why we have prepared 2 ways of installation. First is by using extra durable double sided 3M VHB stickers. The second option is by screwing a holder to a bathroom wall. In case you decide to use the version that can hold more weight, everything will be included in the package.
In case of any questions please visit our FAQ section.
What does stylish BUSINESS Pee\Hero© packaging include?
In a sexy, triangle shaped box made of recycled cartoon you will find:
USING INSTRUCTIONS for Pee\Hero©
PERSONALIZED LETTER – created according to your wish
GIFT
Finally a present for those, who are more demanding 
Forget about pens and mugs. Give your clients a present that they will REALLY ENJOY. Give them Pee\Hero© HOME. Pee\Hero© is also a great alternative for employees' presents. Give them something, they will be proud of. Check the latest designs here>
For more information we will be happy to answer all your queries at hero@peehero.com